NEWS
Saturday 1st August 2015
...Are you looking for great swimming pool paint and helpful technical advice...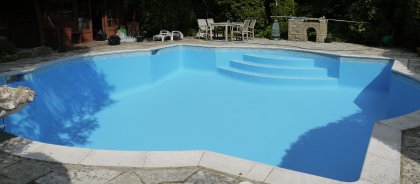 "...Hi Chris,
We would just like to put on record how extraordinarily good your whole service has been for us when repainting our 32' X 32' X 7' pool (pool pictured) using your Acrylic Swimming Pool Paint, colour BS18E51, Turquoise.
The product - your acrylic pool paint WB148, is high quality and very good to work with. We applied it very easily and quickly using rollers (and brushes for the tricky bits) and it provided excellent coverage which greatly exceeded our expectations. The colour is superb and solid and has toned accurately with the turquoise blue in our mosaic tiles. The result is absolutely the best we have achieved in nearly 20 years of pool maintenance.
The comprehensive technical information and support provided by Technical Paint Services on the process of preparing and painting proved to be extremely helpful, particularly so when we had to seek advice about drying and curing during a prolonged period of intermittent heavy showers. All concerned were very professional and always friendly and helpful. We valued this enormously.
Thank you again for your excellent services.
Kindest regards,
Frank Budden."