NEWS
Thursday 16th February 2017
Swimming Pool Fever - Looks like Spring has come early for some!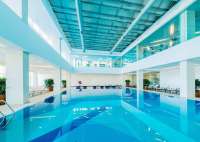 Reports from our Sales Team indicate that January and February have been the busiest on record for the past five years with sales of WB148 Water-based Swimming Pool Paint already up 42% on this time last year. This early demand has pulled our manufacturing of WB148 forward and we are now offering a 1-2 working-day delivery service with the majority of colours available "off the shelf".
Also in demand is our long-standing A148 Chlorinated Rubber Pool Finish, normally available in most standard colours in 3-4 days.
Newly introduced for the 2017 season is our AWC1035 Acid Wash Cleaner. A hard surface pool cleaner and pre-surface treatment recommended for use prior to painting and also ready to ship from stock; ideal for "one-stop shopping!"
Sales of pool hall coatings have also increased dramatically year on year, including E27 Acrylic Emulsion up 38% and R1007 Acrylated Rubber Paint up 29%.
These huge shifts in demand have lead us to focus on the requirement for increased levels of stock in order to serve the needs of a more short-term and demanding audience.
With new resources, raw material suppliers and increased sales, we are now able to offer a faster turnaround on our most popular coatings.
Now more than ever, we are seeing specifications via architect firms as well as referrals from other leading manufacturers and retailers including Akzo Nobel, Crown Trade Paints, Travis Perkins and Dulux Decorating Centres.
We are pleased to receive enquiries of a technical nature and will endeavour to solve your problems for all your swimming pool and pool hall requirements. 01202 295 570.
Please Email us with your enquiry: enquiries@tecpaints.com