About Us, The Home of Swimming Pool Paints
About Technical Paint Services, The Home of Swimming Pool Paints.
Thank you for visiting our website which provides details of our swimming pool paints and coatings as well as a range of associated pool-related products. It is the specialist pools website of Technical Paint Services, an independent, specialist paint manufacturer and supplier, established in 1946 - that's over 75 years of experience for you to draw upon!
We are specialist paint manufacturers, offering a variety of coatings to be used in swimming pools, in pool halls, pool structures and enclosures, in ponds, water features and on surrounding pool areas. Please note we are not decorating contractors and do not provide a painting/application service.
Paint for swimming pool maintenance. We manufacture our own range of Chlorinated Rubber Swimming Pool Paint and Acrylic Water Based Swimming Pool Paint. We have a range of water based pool paints and chlorinated rubber based coatings for both under and above water. Our Chlorinated Rubber Paint may be used for hydrotherapy pools and spas including canine and equine therapy pools. These animal pools should be regularly cleaned by pressure washing.
Anti-slip pool paint, chemical and urine resistant paints and high performance multi-surface paints available. A variety of coatings to be used in pools and on pool surrounds. Smooth, gloss and anti-slip paints to treat concrete and metal surfaces along with pools, changing and shower areas. Paint for pool structures, paddling pools, ornamental ponds, Baptism & Blessing pools and water features. We have a fine, anti-slip finish for aluminium pool copings.
NOTE: For advice regarding all previously lined or marbelite pools, whether coated or uncoated, please call our Technical Team on 01202 295570.
---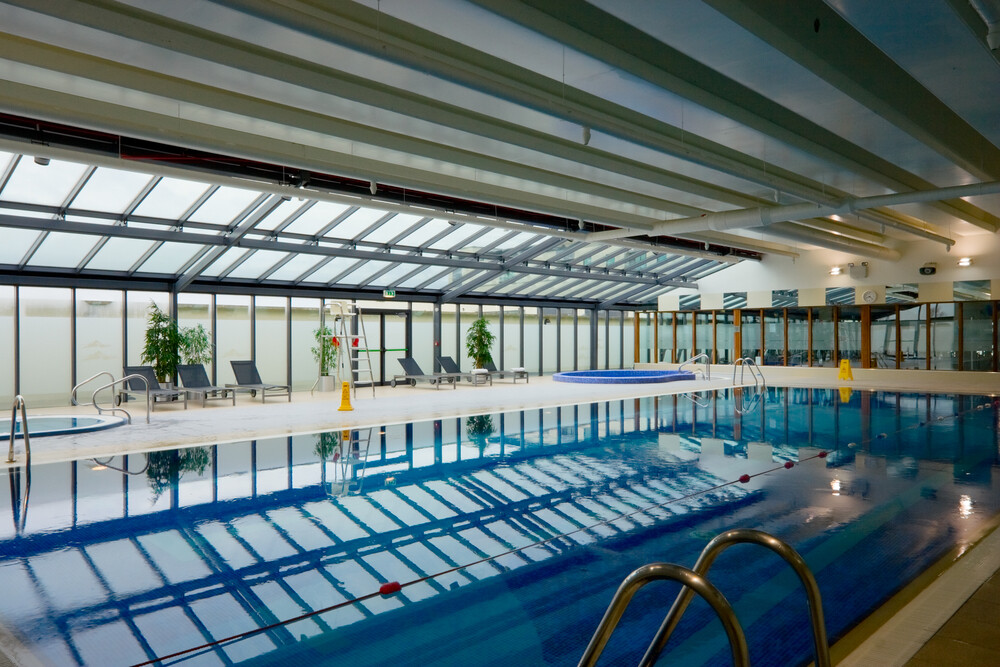 Come on! It's time to start getting your pool ready for the cold Winter months. Properly preparing your pool water, plant and equipment will save time and money when you re-open your pool in the Spring. As Autumn turns to Winter, so the use of outside, uncovered pools wanes. If you're lucky enough to have a covered or indoor pool for Winter use, do take the time to maintain paintwork in and around the pool and pool room areas.
Now is still an excellent time to put right and paint pools, their surrounds and the plant room. Providing application temperatures remain above 10C and it remains dry, then it's fine to clean and re-paint. Swimming pool winter painting maintenance - iIf the temperature drops below 10C when you wish to paint, then please consult our guide "Painting In Cooler Weather" and also see the relevant Technical Data Sheet. If you are lucky enough to have a pool housing and undertake painting and maintenance, then it's still good practice to open the doors and windows to allow the paint to dry naturally.
As the seasons change, it is important that you are aware of the optimum weather and temperature conditions for maximising your painting opportunities. Links to Seasonal Advice, Preparation and other Guides will remain available from here and elsewhere on our site. All to quickly Winter brings a mixed bag for painting; usually cold and damp, meaning paints will not readily nor easily dry out. But there are very often some mild days which may offer a small painting window for solvent-based coatings to be applied and more importantly, to dry and cure! Our A109 range, A1040 Multi Purpose Paint and our Chlorinated Rubber Coatings (R10, RP10, R34, R35) are all suitable for these conditions and are certainly worth having available within your "portfolio" of Autumnal and Winter paints. To help you this Autumn, all our Pool Paint prices are held until December 31st 2023, so BUY NOW!
Whatever the surface or job in mind, we offer a comprehensive range of coatings: from ROOFS to FLOORS, WALLS or PLANT and SILOs, TENNIS COURTS and MUGAs.
We are pleased to receive enquiries of a technical nature. Call us on 01202 295570 or email us with your enquiry. We have a vast range of mainstream and specialist products suitable for domestic or commercial swimming pools and pool environments.
If you are lucky enough to have combined sports facilities, we make Squash and Tennis Court Coatings along with the appropriate Line-Marking Paints. A full range of Specialist Primers and Coatings for your steel superstructures are also available, along with Smooth and Anti-Slip Flooring Paints for all applications.
---

Many of our products are temperature sensitive and have an optimum temperature application range to ensure their best performance. We recommend that you check your local weather conditions prior to starting your project. Visit the BBC Weather Site for your area.
For other projects, now is also the perfect time to plan external maintenance that require more major repairs and attention ahead of any investment of time in painting. Concrete repairs, wood and metal replacement, gutters, downpipes and roofing etc., will all take time to properly prepare ahead of painting. Our Technical Team have experienced the complete range of variables throughout the seasons in over 75 years of trading! Please draw on this knowledge by contacting us on 01202 295570 or email us HERE. See our useful guide 'PAINTING IN COOLER WEATHER', below.
---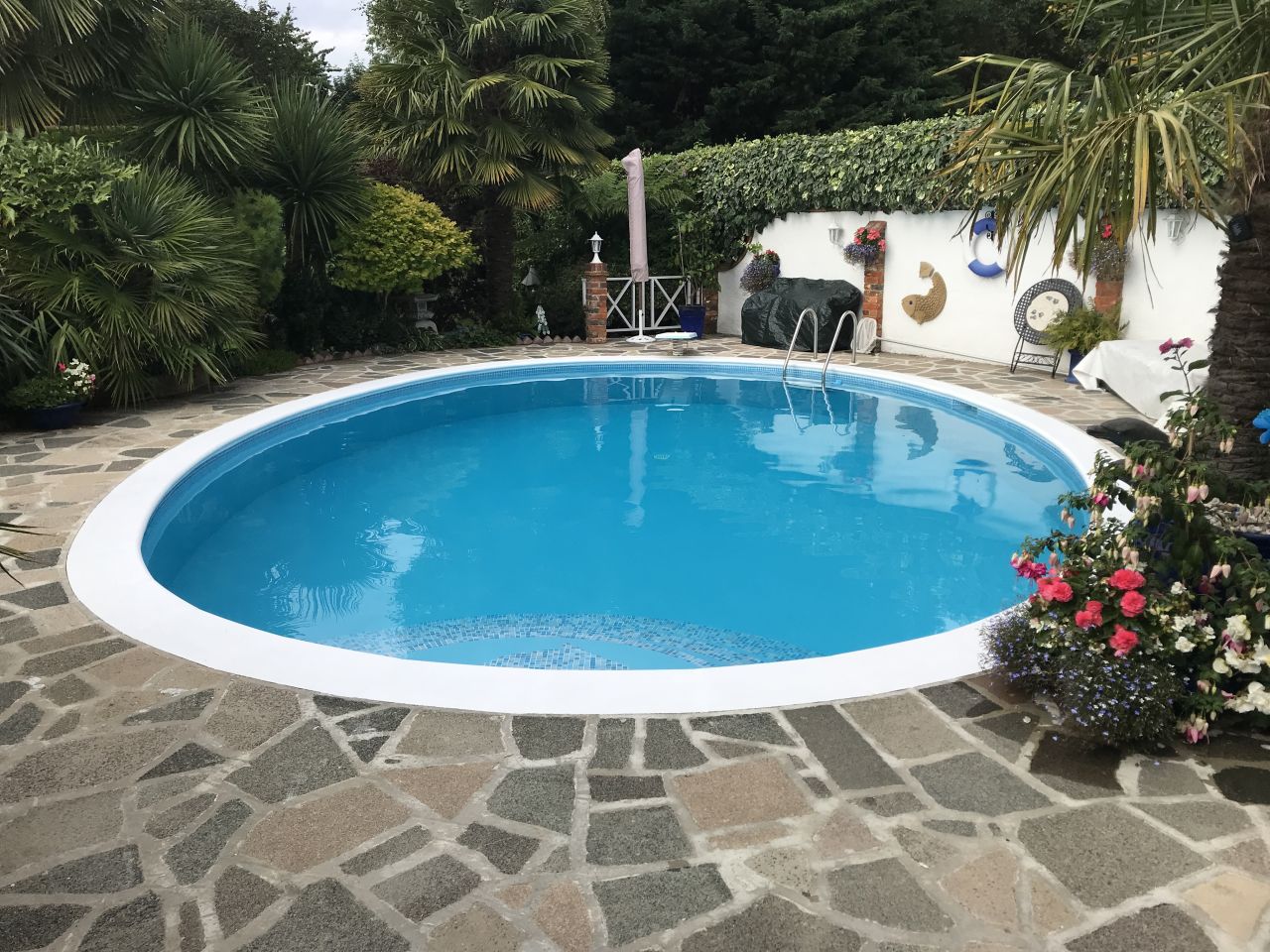 "I just wanted to thank you (I think it might have been Chris that I spoke to) for the speedy delivery and excellent service that you provided. Thought you might like to see a photo of the finished result, the paint was a joy to apply and the colour was perfect. Many thanks."
Bernice Edwards
---
If you suffer with "Solar Gain" (greenhouse effect) from a glass, asphalt or metal roof, see our Solar Reflective and Anti-glare products which are available HERE.
You should start your seasonal maintenance process by identifying the surface (substrate) to be painted, it's general condition and what you want the end result to look like (such as colour, texture and sheen). Once you have established your ideal end-result, refer to our Substrate Index for options and take a few invaluable moments to read our Painting Guides - see below.
HOW TO PREPARE YOUR POOL FOR PAINTING
HOW TO PAINT A SWIMMING POOL inc TROUBLESHOOTING
SUBSTRATE INDEX
PAINT PREPARATION GUIDE
PAINTING IN COOLER WEATHER - (you never know!)
PAINT SYSTEMS FOR STEEL SURFACES/SUBSTRATES
COLOUR CHARTS RAL, BS4800
DOWNLOAD TECHNICAL DATA SHEETS HERE
If in doubt or you need guidance, just pop us an email or give our Team a call on 01202 295570.

---
The Paint Centre
Rear of 27 Southcote Road
Bournemouth, Dorset, BH1 3SH.
Email: enquiries@technicalpaintservices.co.uk
Phone: 01202 295570
Fax: 01202 295 552
Technical Paint Services is the trading name of Neatcross Ltd.
Registered office:
Rear of 27 Southcote Road
Bournemouth
Dorset BH1 3SH
Company no. 1570359
VAT ID GB 662970803.
To place your order, call 01202 295 570 Got a question?